Finally, India signed the US-initiated Artemis Accords this week not to enter any coveted club but to ensure it gains strategic returns through multilateral partnerships. Please don't question why India chose the US over Russia, why India is picking sides, or whether New Delhi is giving away its strategic autonomy in space. These questions do not matter if one realises India has become hard-headed and resolute about its interplanetary ambitions, the next natural step to its own Gaganyaan & Chandrayaan efforts.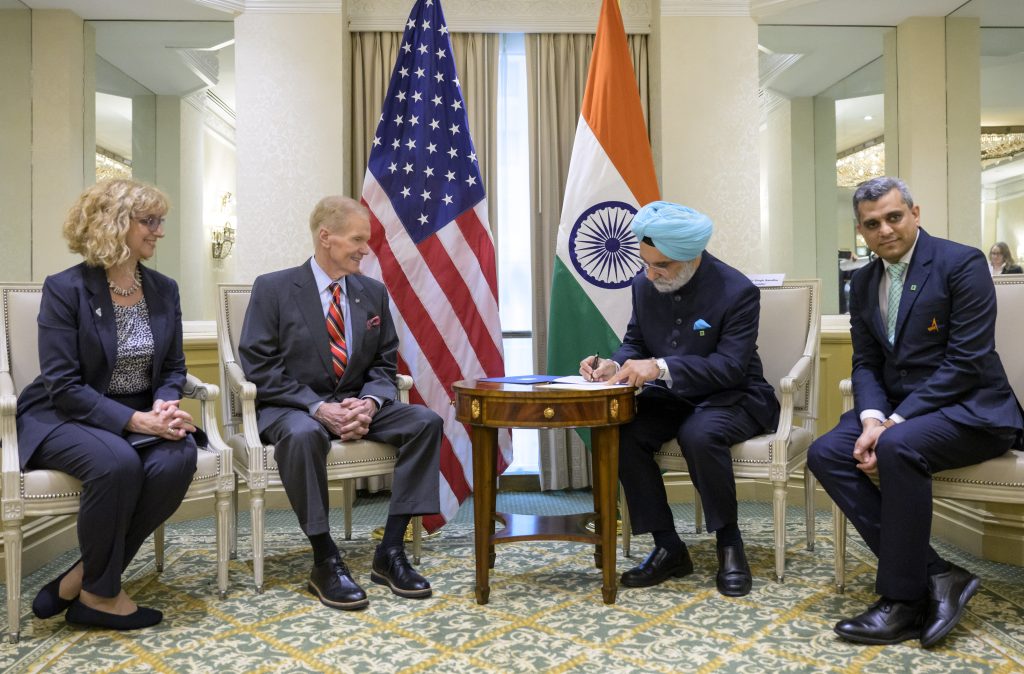 There were always strong opinions among those advocating for and against India signing the Artemis Accords. I, for one, have always maintained that India should proceed after ensuring its strategic interests and creating a strong Indian imprint as we make this global space diplomacy move. The Indian government's long wait signifies that it has comprehended its interests and negotiated what it needs from the US. Interestingly, the US institutions and media seemed more excited in the hours before signing the Accords than their Indian counterparts, as evident from the public statements made by their officials. This rousing welcome by the US shows immense potential to be tapped into the Artemis Programme, starting with the Indian vyomanauts travelling to the International Space Station and ISRO partnering with the US returning to the moon with a crewed mission after four decades. Please bear in mind that India is already in the advanced stages of its human spaceflight programme, and getting our vyomanauts travel to ISS will only benefit its space commerce diplomacy with the US and other signatories. We must understand that in an era of multiple commercial space stations, India will raise its space station in the 2030s and invite numerous international partners to board. These partners would likely be commercial entities from across the world. The experience with Artemis stakeholders will help India a lot. Also, note that Gaganyaan's next-in-line human spaceflight missions cannot remain solely funded by the Indian government. Very soon, international space commerce will have to significantly sustain India's human spaceflight, cislunar (Earth-Moon) and interplanetary economy initiative, which will have substantial private sector participation from India. Prime Minister Narendra Modi, also in charge of the Department of Space, is aware of all these and more upcoming exigencies and is therefore seen batting for more space commerce cooperation between India, the US and other Artemis signatories.
India-US space diplomacy efforts have been sustained over the last twenty years. Although not a time to rekindle not-so-pleasant memories, ISRO was sanctioned by the US in the 1990s under the Missile Technology Control Regime (MTCR). After that, the 2005 Joint India-US Working Group on Space Sector Cooperation, the 2009 Technology Safeguards Agreement, the 2013 National Defence Authorisation Act, and India's entry into the Missile Technology Control Regime in 2016 strengthened the bilateral space cooperation stepwise. During these years, we saw India-US partnering on the Chandrayaan-1 mission; India's interplanetary spacecraft got communication support from NASA Deep Space Network antennae in California, Spain and Australia. US space companies enjoyed the launch services from ISRO's PSLV rocket as the US delisted commercial satellites from the US Munitions List of the International Traffic in Arms Regulations (ITAR) and put them under the Commerce Control List of the Department of Commerce's Export Administration Regulations (EAR). A jointly-developed cutting-edge NASA-ISRO synthetic aperture radar mission is in the works and may be launched in the next few months. American and Indian space research groups have collaborated more frequently. And, more recently, the Chairman of the Department of Space was on tour to the US early this year when the two countries National Security Advisors led the initiative on Critical and Emerging Technology (iCET).
So the pink elephant in the room is – is India ceasing space cooperation with Russia? Is India not open to any Sino-Russian International Lunar Research Station invitations? We'll take it one by one. First, the US is the most dominant space power on this planet and has been so for the past six decades, and after the fall of the Soviet Union, Moscow, too, depended on space cooperation to ease its relations with Washington. The outcomes of their complex but made-possible collaboration are the International Space Station and those Russian RD-180 engines that powered the US's Atlas V launch vehicle. India will not cease space cooperation with Russia; instead, India will continue to be in a position where it can smoothly work with any country or grouping that serves its interests. On the second question, India is available, but all that matters is more people-to-people connection. What makes Artemis more workable in the present is the immense interests of US-based and US-related financiers in the Indian space businesses and the deep relationships that our diaspora has developed in high-technology areas. Such relations have dwindled in the case of India-Russia, and in the case of India-China, they never existed. But then, looking at the long road travelled by India and US, nothing seems impossible. Furthermore, it depends on how easily China, Russia or the US accommodate India's rise.
So what happens to Gaganyaan? What happens to strategic autonomy? India has to ensure its space economy contributes healthily to its national economy, and partnerships like Artemis Accords are vital to sustaining healthy economic contributions from the space sector. Also, we must get over the notion that strategic autonomy means solitary actions. As India participates in the Artemis-led missions, it will contribute to its strengths and not remain a lethargic member dependent on diktats from the so-called senior partners. India is no one's junior partner. India would possess a substantial share of manufacturing of space technologies and downstream and midstream digital space solutions relevant to the interplanetary space economy. Our space companies would be vital stakeholders in the cislunar and Earth-Mars industrial supply chains. As our private entities innovate while earning international revenue, the Indian national space program led by ISRO would focus more on the R&D of non-commercial and far-reaching space megaprojects.
India is on its march as a good-natured superpower. Its good nature is laced with realism and determination to do well for humanity. With Artemis Accords, India will positively contribute to the thoughts articulated in the agreement. It does not mean it is taking astropolitical sides, nor does it mean that it will not respond gruellingly to any political shenanigans or thwart those planning them. India will only contribute positively to human aspirations to become a multi-planet species starting with the Moon.